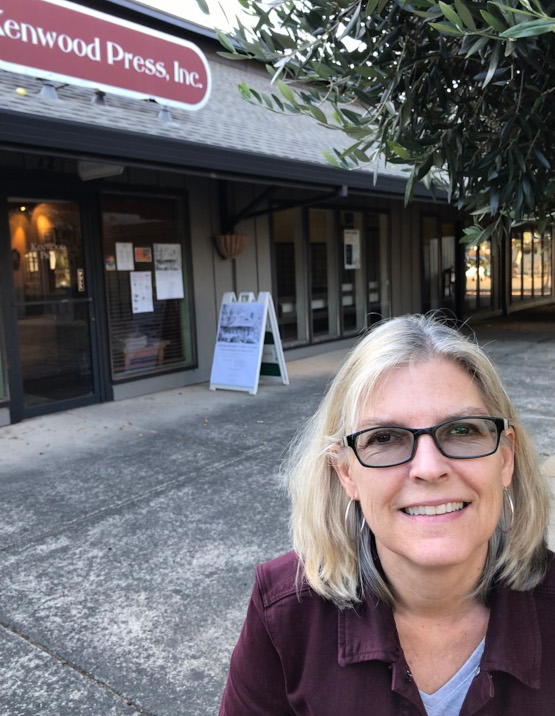 Ann is originally from West Virginia, by way of Houston, Texas. She has lived almost continually in Northern California since 1978, graduating from Stanford University and UC Hastings College of the Law. She met her husband, Alec Peters, when they were undergraduates at Stanford, They have been married since 1985 and have three grown children and one grandchild.
Ann and Alec have published the Kenwood Press newspaper since buying it in 1995. Working under deadline, she has honed the art of writing under pressure, often penning the Publisher's Corner, one of the most popular features along with Crime Watch, the morning the paper goes to print.
For many years now she also has been writing what she calls a memoir with food, a series of essays using a recipe, a memorable meal, or a favorite food as a starting point/jumping off point.
Visit My WebSite
4th of July in Texas
My two favorite holidays are Thanksgiving and the 4th of July. Both are uniquely American holidays and neither involves gift giving. Growing up in Texas, we always celebrated the 4th with a party at our Bay house. The Bay house was a weekend place on the shores of Trinity Bay, which flows into Galveston Bay, which flows into the Gulf of Mexico. We had about five acres of grass and pastureland near the town of Anahuac. It was Cajun Hicksville. Our house was a former one-room schoolhouse. The kitchen was in the front where the teacher would have sat. The main room, two steps down, had a sagging couch and some chairs, a bumper pool table and a ping pong table made of an enormous slab of wood on saw horses. In the corner was a bar with fishing nets and buoys hanging from the ceiling, and a clock with the number five all around the dial and a sign saying "It's five o'clock somewhere." The place came fully furnished, as it were. There was a sleeping porch on the side of the house and a screened-in front porch that faced the water. There was no phone, no TV, and no air conditioning. It was hot, humid and dusty, and bordering on dilapidated, but we loved it. The water was shallow and warm and you could wade out for hundreds of feet before reaching a dredged out lane for boats. Beyond that little shipping lane was a sand bar and we would swim out there and make like Tom Sawyer on the island. It was covered in rocks and oyster shells.
For the 4th of July my mom would smoke a beef brisket. She had figured out what to do from listening to a radio call-in show when people were talking about the best way to cook beef brisket, and also from talking to our East Texas housekeeper, Eva. The process involved smoking the meat for a long time over low heat, occasionally brushing it with olive oil and lemon juice. She had two Old Smokeys, one with the meat, and one with extra charcoal that she would transfer over to the other pit when the coals got too low. She did the whole thing the day before the party; it takes about five hours.
When it was finally done the meat would be fork tender. We ate it with cole slaw, baked beans, and kosher dill pickles. Everything would be laid out on the picnic table on the front porch, and all of us would crowd in to fill our plates. Mom and Dad and their friends drank Budweiser and Lone Star in long neck bottles, and we would drink Coca Cola or Sprite or maybe Fresca. The best part was that our friends were there and we could play.
As we got older, like 12 or 13, firecrackers became more important than the food. We seemed to be completely unsupervised, because I remember holding lit firecrackers in my hand and throwing them right before they exploded. I hope we were throwing them into the water! We would look for dead things, like fish or crabs or snakes, and stuff firecrackers inside them and blow them up. We always had some real fireworks, too, like Roman Candles, that the adults would fire off into the bay.
It was so hot there, and yet we were outside most of the time. Being Texas, there were lots of mosquitoes and snakes. I hate mosquitoes, but I really hate snakes. Dad would kill the poisonous ones, like the rattlesnakes, by chopping off their heads with a garden hoe. Guess we didn't have a gun handy. One day I was headed outside when for some reason I stopped to look at the view, and I remember thinking how beautiful it was, which was kind of weird because it wasn't all that beautiful if I recall correctly, and also because I was a teenager and thoughts like that didn't come naturally. So I stood on the step looking out at the bay and the trees and the lawn, and right there in the grass was a great big copperhead. I mean about six feet long. I screamed bloody murder, and dad got the hoe and went at it. I can't believe he had the guts to run out and face a snake armed with just a hoe, but he did.
On another occasion we arrived at the house on a Saturday morning and as soon as we opened the door an awful stench overcame us. Clearly something inside was dead. We looked everywhere and couldn't see anything amiss, but the smell seemed to be coming from our stove. Mom and Dad pulled the stove back from the wall, and there it was – a rattlesnake had somehow gotten inside and crawled up into the coils in the back of the stove to shed its skin or hibernate, and had died. Dad had to cut it in pieces to extricate it. I can't believe I ever slept in that house.
Here's the funny thing about my dad, and about how our society has evolved since the 1970s. Although Dad was a good ol' boy from West Virginia, he was now a CEO of a major company. He worked for Exxon, founding a subsidiary called Monterey Coal Company. This was during one of those periodic downturns in oil and gas, so Exxon thought they'd get into coal as well and hired my father for the job. Coal is the kind of industry where the responsibilities are enormous. Peoples' lives are on the line. Dad was lucky throughout his career never to be involved in a major catastrophe like a cave-in or explosion. But if the phone rang late at night at our house it only meant one thing, some kind of bad accident.
So we had this weekend home with no telephone. About a mile down the road was a sheriff's deputy named Jack Morehead, and he had a phone, so he was the emergency contact for Dad. If Exxon needed to reach Dad over the weekend they could call Jack and he would drive over to our house and get him.
Dad spent most of his time at the Bay house fixing things up and mowing the fields on our ride-on lawn mower. He loved that place. Later we moved from Houston to St. Louis where Dad was CEO of Peabody Coal Company, the largest coal company in the United States and possibly the world. And yet throughout his entire career he didn't make as much money as the president of the renamed and now publicly-traded Peabody Energy makes in one year today. You can bet your bottom dollar that no head of a major corporation today would spend his weekends at a swampy, humid backwater killing snakes and mowing the grass. And to do it without a smart phone is unthinkable. I can't help wondering, is this is a good thing?

Beef Brisket
You'll need two Old Smokeys, one for the extra coals.
Rub brisket with water, olive oil, and lemon juice. Mop it with the juices every twenty minutes, turn and mop. It's being smoked on really low heat.
Do this for four or five hours.
When it's done, put BBQ sauce on it and rap it up in foil. Put in oven overnight but don't turn oven on. Reheat the next day.
Mom says you need a brisket with fat on it. Nothing too lean.
Serve with baked beans, cole slaw and kosher dill pickles.
Water
In the beginning…
there was water.
Of the four elements – earth, fire, wind and water – water is the strongest, the primordial, the most dangerous.
We are made of water. Before we were born, we lived in water, nestled in the dark, noisy, warm amniotic fluid of our mother's womb.
Man can fight fire with water, can fight wind by erecting shelters, can tame the earth by digging and plowing and grading. But what can fight water? Water erodes anything man or nature can construct, and eventually it will find its way wherever it wants to go.
When the flood comes, nothing can stop it except itself. We can sandbag the river banks, but if the river rises high enough, the sandbags are useless.
The water will seep through cracks, insidiously widening an interstice, making it longer, larger, until all around gives way and water has its way, flowing freely wherever it wants to go.
Water is God's way of reminding us that despite what we think, we really are not in control.
The only thing that can stop water is water itself, as it evaporates, recedes, retreats into the clouds, until the next time conditions are optimal for another deluge.

Tonight we were talking about being writers, and how you rarely, if ever, get any feed-back from readers, making you doubt if anyone is reading your work in the first place. But they are. I think 99 percent of the time you don't hear from people who enjoyed what you wrote, but you hear from the one percent who are pissed off. That's definitely true in the newspaper business. Every once in a while I get a nice email or comment from someone who appreciates what we do, and that's good enough.
Resolved: that we should all start expressing our gratitude on a regular basis. Call someone, send an email, or a thank you note. One of my favorite things about going to church is the goodwill. At St. Patrick's, one of the first questions asked is "Who can we thank?" The potluck dinner was fun, who can we thank? The Christmas pageant was adorable, who can we thank? The altar flowers are beautiful, who can we thank? It could be a bumper sticker, like WWJD? (What would Jesus do?) WCWT? (Who can we thank?)

One year ago tomorrow was Halloween. Alec and I went to Nicki's house for the Rotary Club Halloween party. I was a witch. We gave out candy, probably drank a little too much, and Alec stumbled and fell on Shaw Ave., scraping his knuckle on the asphalt. The next day, we played hooky from work and drove out to Tomales Bay to have lunch with his mom and sisters at Nick's Cove in Marshall. It was a beautiful fall day, sunny and warm. We walked around the inn and went out onto the pier. At lunch I was happy to report that my dad was doing better after his bout with pneumonia. The day before, he had gone to Starbucks, and had lunch on his own at MacDonald's while mom was at a luncheon with her friends.
Back in St. Louis, fall was approaching. The leaves on the trees were turning gold and red, the air was crisp and the sky was bright blue. I know this, because the next day I was there myself.
Alec and I drove home after our day in Pt. Reyes, having hiked around Tomales State Park after lunch. We got home, fed the dogs, and were discussing what to do about dinner when Alec pointed out that his knuckle looked like it was infected from his fall the night before. I had just been talking to Mom about how easy it was to go to urgent care with Dad instead of waiting for a doctor's appointment, so we decided to do that, going up to the Urgent Care Center in Santa Rosa at Mission Plaza. By the time we got home it was around 9:00. We ate scrambled eggs, watched some TV, and went to bed.
The phone rang at 12:30 a.m. It was Mom, saying, "We're at the hospital and they're saying Bob's not going to make it." And my shocked reply, "What do you mean he's not going to make it?"
So tomorrow is Halloween, which marks the day before the last day of my life when my dad was still a given – a taken-for-granted, living, breathing, talking, reading, walking, interested-in-what-you're-doing person. Today I sat on the bench next to the olive tree that we planted in his memory. I have six non-fruiting olive trees lining the driveway, but this tree will bear fruit, and it will live for hundreds or thousands of years. Of course, it's still a baby, and I won't be around to see it get that big, but I like the idea. Someday I'll be in my 80s, and my kids will be in their 50s, and my grandchildren will be shaking the olives off that tree and taking them to the olive press. And we'll get some olive oil to dip our bread into, and I will still remember my father.
It's been almost 12 months, and each month has been different. March was particularly hard, I don't know why. And some months I hardly had any of those triggering moments that would leave me grief stricken and in tears. So the conventional wisdom is true, it does get easier with time, and you do forget the horrible last days and instead remember your loved-one the way they were when they were alive and well.
I wonder how hard it will be when I lose my mom, which inevitably will happen unless I kick off unexpectedly before her. Right now I can't envision that at all, like I never envisioned how hard it would be to lose my dad. Instinctively I think it will be a much harder blow. What I've learned, though, is not to predict how you will feel. Just wait, and let it happen.
It's like water. It will go where it wants to go, and you can't stop it, just wait for it to recede on its own time frame. And be thankful for it, because it is life.