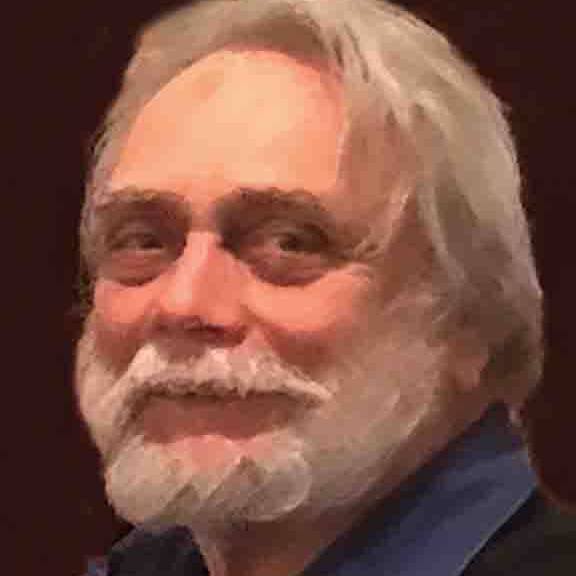 Inspired quite early in life by the writings of the Flemish mystic Maurice Maeterlinck, I realized early on that I would be a poet. My childhood in remote parts of Sonoma County's countryside was pastoral and— due to a serious illness that isolated me from others for two years— contemplative.
I began writing for the theater at Santa Rosa Junior College, and reading my poetry in North Beach coffeehouses during the early Sixties. Those days were divided between demonstrations against the government and my undergraduate studies in English Literature at UC Berkeley, where I wrote my senior thesis on William Blake and his use of astrology as a poetic language.
I continued to write poetry and short stories, as well as writing for the stage, while pursuing graduate studies in Clinical Psychology at the University of San Francisco and establishing a private practice in Berkeley. When I met Maria half my lifetime ago— 40 years ago— I brought her back to Sonoma County to start our family where I had been raised.
My monthly column "Living Life Well" appears in the Kenwood Press, and I am at work on three major projects: a history of the Valley of the Moon in the 19th Century, a rather thorough memoir of this octogenarian's life so far, and an epic-sized poem about the best way to be when civilization is overturned— based upon my rendition of the 13th Century Japanese poem Hojoki, Visions of a Torn World.
Visit My WebSite
Reunion
Having nothing further to do, he pulls the familiar old cardigan closer about his thin shoulders, and presses his back against the rigid seat. His knees are pressed against the back of the seat in front of him, and the stranger beside him is sitting too close for comfort.
He had drawn the arm down between them when she had taken her seat, and had drawn the window shade at his shoulder down to shut out the bright light upon the tarmack outside. "Too bright, and too close," he resumes writing.
"It's strange, not having Mary beside me. I've never flown before without her." He pauses. He likes brief sentences. He likes how precise they make the mind. He had made certain that his students learned this important lesson early each semester. It made reading their papers that much easier for him.
There have been so many things, he continues thinking, that he has done for the first time without Mary, all this past year. "This is all an imposition," he continues writing, and then stops again. He doesn't want to sound as though he were complaining, whining like a schoolboy. Professor Parker does not complain. Professor emeritus Parker, he amended.
The young woman standing in the aisle is demonstrating how to use the oxygen supply hidden in the panel overhead, how to use the cushion he is sitting upon as a flotation device, and where the escape doors are with their inflatable chutes. Persons sitting at those doors are to exchange seats with anyone else, if they are not comfortable with the responsibility of opening the escape doors. George is glad that he will not be made responsible, should the need arise.
"I never liked taking off. I always held Mary's hand." He glances at the stranger sitting beside him, and then quickly away. The woman does not look at him, seems vaguely disapproving, holds her purse firmly, protectively upon her lap, and stares grimly straight ahead.
Thoughts of dear Mary, sweet Mary, comfort him briefly. Memories of vacations that she'd arranged for them to be together, flights and cruises she had planned out with her travel agents, all those myriad details that confused him, frustrated him. Were it left to him, she had smiled, they would have gone nowhere to be alone together. He would have remained working in his brown study forever, while she would work away in her kitchen.
No, he would tell her, we would vacation in our side yard, where no one would think to look for us. We would hide from the neighbors and the postman. We would poison the dog so he couldn't sell us out; and she would laugh and pull at his beard with her very gentle fingers.
The airplane lurches away from the terminal, the long finger of its jetway gradually retracting. He feels the airplane's machinery shuddering, and shudders. The woman beside him stares straight ahead, her lips pressed together. There is no point, he decides, to speak to her, however politely. He resumes writing, taking his mind from the fact that he is on a machine that lumbers forward toward a concrete apron that it will have to, somehow, lift from.
"It's thousands of miles away," he writes in the little notebook on his knee. And he thinks, it's thousands of years, and suddenly only yesterday. A far younger man is waiting to meet me there, the boy I used to be, an undergraduate college student. So long ago, and as much a stranger now as this woman sitting so close next to me.
Who are all these people? he abruptly wonders, almost in a sudden panic, looking quickly around the cabin of the aircraft, from person to person. Is it possible that I may die in the presence of these strangers in only a few moments?